Kimun Kamui (Kimun Kamui キムンカムイ) is the father of Kanna Kamui.
Appearance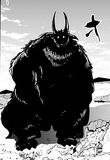 Kimun is a large set man with black hair. While in his dragon form he becomes a very large dragon with two large horns coming out the top of his head.
 Personality
Background
Kimun didn't care about raising Kanna as a daughter instead as a fellow comrade, so she ended up breaking one of the Dragon Balls as a prank. As a result Kimun ended up abandoning Kanna in a field.
Plot
Powers and Abilities
Relationships
Kimun has very little knowledge of being a father to Kanna and considers her a "comrade" instead of a daughter.
He and Kobayashi share a taste when it comes to sake, but they completely disagree on the way to raise Kanna.
Trivia
References